Welcome
What better time to start a fashion blog than during London Fashion Week. There has only been one day of shows so far and it is already shaping up to be a good one. I am going to keep you up to date with my favourite pieces, collections and trends. For all the schedules, shows, photos, videos and catwalk reports you can go to the official London Fashion Week site at
www.londonfashionweek.co.uk

Sunday, 18 September 2011
This heavily structured japanese inspired collection is definitely original. I love the vertical striped blouse and the white lampshade dress.
Saturday, 17 September 2011
I am a huge fan of all things 20s so this Great Gatsby-esque, dropped waists, lace gloves collection I find really appealing.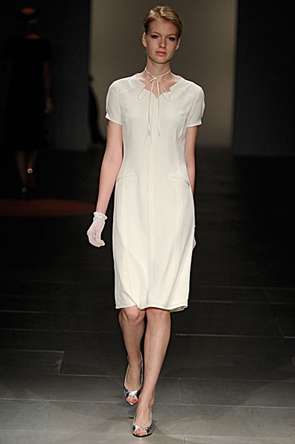 Here are some of my favourite pieces from Paul Costelloe SS12. I love the neutral palette he has used. The pleating and ruffles bring femininity to his structured style. I have always been a sucker for pleats. The monochrome coats are brilliant, particularly the vertical striped one. Now where to find something similar on a budget...